 Institute of Management Studies
About the Institute
Institute of Management Studies (IMS) was established in the year 2015. With the institute's expansion and steady growth, it aims to prepare students for corporate life through suitable courses, which builds their competence in management studies. Besides the MBA programme, which is a part of Indus since the year 2007, the institute offers doctoral research (PhD), entrepreneurship programmes,  five year dual degree programme (BBA+MBA), four years Integrated MBA and three year B.Com (Hons).
IIMS has always looked forward to bridging the gap between the academic degree and the corporate requirement. To do so, apart from the routine lectures, it has several structured activities planned in the curriculum such as:
Summer internship programme
Comprehensive cape-stone projects to provide hands-on experience
Industrial visits to eminent companies at regular intervals
Celebrated guest speakers are invited to deliver expert talks 
 
We believe that an institute can excel when the faculty members and the students share a healthy relationship. It not only helps make the class interactive but also enhances the level of receptivity of the students. To maintain it, experienced and expert faculty members are drawn from a variety of functional areas of management. The growth of faculty members is much required as students; thus, faculties are encouraged to engage in research, consulting, and sponsored research. Faculty development programmes are organized to keep them flexible in responding to educational queries of the students.
In a few words, IIMS looks forward to seeing all of its alumni excelling in their chosen fields returning to Indus only with a badge of their brilliance.
Faculty of Management & Faculty of Commerce
Faculty of Management & Faculty of Commerce under Indus Institute of Management Studies are among the leading departments of the university. MBA Department established in the year 2007, caters to the industry requirements of enthusiastic professionals with an ability to adapt to changing market dynamics. University's motto 'Where Practice Meets Theory' reflects in the teaching process which includes the use of multiple pedagogical and evaluation tools. Seminars, expert sessions, conclaves, and industrial visits are planned during the course work to enhance knowledge pertaining to subject/s.
Our Vision is to establish centers of educational excellence that offer challenging learning environments that encourage high expectations for success through knowledge creation, development of skills and promotion of values by nurturing the talent into socially relevant and dedicated managers, entrepreneurs, business leaders, and thought leaders.
Indus Institute of management studies strives to provide holistic education that will inspire students to achieve the highest standards of intellectual, personal development to become creative and caring builders of the future.
Programmes Offered by IIMS
Dual Degree MBA (BBA+MBA) - IIMS
The five-year Dual Degree BBA and MBA programme has an option to exit at the end of Bachelor's part of the programme. At the end of BBA degree, students have the choice to directly enroll into MBA, thus saving on the rigors and stress of going through separate entrance examinations. In this programme, students have an opportunity to gain knowledge of theory as well as practical concerns in the field of Management with specialization in various domains like finance, marketing, human resources, information technology, and other related domains.
Master of Business Administration (MBA 2 years) Regular-IIMS
MBA Programme at IIMS offers Industry and business-oriented curriculum, which provides a distinct advantage for young bright minds to well-prepare for the Industry. The courses are designed to provide conceptual, contemporary and application areas of the specialization. Management programme structures are designed with inputs from Global leaders and Industry to meet the needs of the current market. The Institute has highly qualified and industry experienced faculty with an outstanding research background.
Specialization Offered:
Marketing
Finance
Human Resources
Information Technology (Business Analytics)
Operations (Supply Chain & Logistics)
Aviation
Healthcare
Integrated MBA (4 Years) Regular - IIMS
The four-year Integrated MBA program has been designed with the purpose of creating Management Professionals who can contribute to the global market. It provides them with an intense value oriented teaching-learning methodology which inculcates the ability to be responsive towards the issues of Global business. This affords a good opportunity for students seeking 4 years of continuous education after 10+2. Students earn an MBA degree after four years.
B.Com (Honors) with ACCA UK - IIMS
Bachelor of Commerce (Honors) Degree is designed to build competence in the area of Accountancy, Commerce and Business and simultaneously providing students with a wide range of executive skills.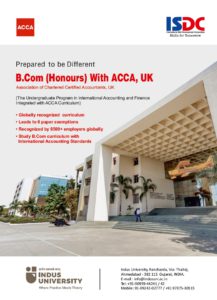 Department Facilities
The department subscribes to various journals and magazines valuable in management education which enables students to keep themselves in touch with the latest happenings and trends. Industrial visits, expert sessions, conclaves, and seminars are arranged at regular intervals.
Academic Pedagogy/Andragogy
Mostly consists of case study, capstone projects, mini projects, role play, lectures & discussion, operation work outs and research assignments, by experienced and qualified faculties.